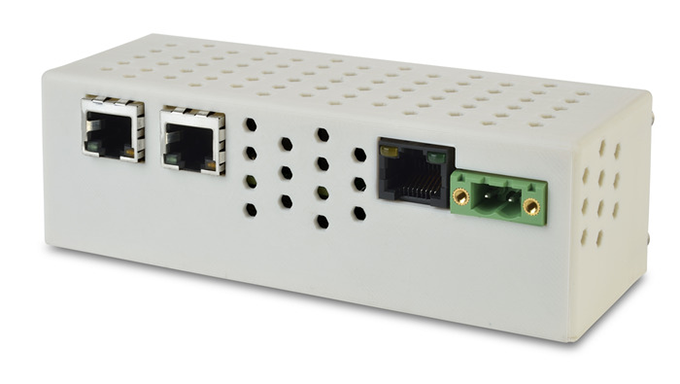 A new product from San Jose based Itus Networks, promises to bring enterprise level security tools to home users. Their new product, iGuaardian is a network security device designed specifically for use in homes.
People don't realize it but every time you add a new connected device to your home network you're opening up another possible security vulnerability.
There are more devices today that connect to the internet than ever before.  In 2014 we're not just talking about laptops, desktops, phones and tablets. IP cameras, connected refrigerators, TVs and set top boxes, video game systems and more are all devices, that without protection, are just sitting and waiting for an intrusion.
While hacking computers is far more common than anything else, there are hackers living in the underworld, working on hacks for cameras, connected appliances and video game systems. Using one device as an entry point these hackers can invade your entire network. Now your tv viewing history, browser history, and even sensitive financial data can be at risk.
That's why Jock Breitwieser and Daniel Ayoub have teamed together to create the iGuardian. iGuardian sits at the entry point to your home network, wherever your internet service comes in. It protects everything coming in and out of your home's network. It also automatically adds every device that is added to your home network, automatically.
People don't think that their iPod or smartwatch can be a gateway to a security intrusion, but it can. iGuardian is specifically designed to protect every single device on a home network.
"At Itus Networks, we believe all families deserve peace of mind that the devices connected to their home network are secure and protected 24-hours a day, 7 days a week. We bring families best-in-class threat prevention for their home Internet connection at affordable prices. " The company says on their Kickstarter page.
Installing the iGuardian is quick and easy. You don't need an IT specialist to install the iGuardian device.
iGuadian Protects
Many consumers are led to believe that there are security protocols installed on their network routers. In this day and age that couldn't be further than the truth. While some routers may have some form of security, routers are mass produced in enormous quantities so that the price can remain low enough that every family can buy one. That's usually at the expense of security protocols. Also, routers that are on the shelves of your local Walmart or BestBuy today may have been designed a year ago, and in that year thousands of new viruses and security threats have been created.
In addition to easy set up, the iGuardian's software is written for home users and doesn't need to be interpreted by someone with a computer science degree, lending even more piece of mind to it's users.
Simply put Itus Networks has designed the iGuardian security device for every single home in the world with an internet connection, because realistically, that's who needs it.
You can find out more here.